By Jayne L. Buryn, Communications Coordinator, Ukrainian Catholic Eparchy of Edmonton
"It was a memorable celebration for our St. Sophia family," says Ellen Yakimyshyn, Past Chair of St. Sophia Church Council. On Sunday, July 8, 2018, the north side of Sherwood Park's Baseline Road at Range Road 224 was a busy corner. On this day, a  about 60 people watched the sod turned and land blessed, initiating the building of a new church in the Ukrainian Catholic Eparchy of Edmonton.
"After eight years of meetings, one every two weeks, we are finally see things coming to a completion," says Father Rendy.  "One gets tired every Sunday in rolling the altar up, rolling the preparation table, tretrapod, icons, etc. and then rolling them back into storage until the next Sunday. This process takes its toll.  I also believe the parishioners are starting to realize that this dream is coming true." 
Construction of St. Sophia Ukrainian Catholic Church, a 12,500 square foot facility, begins on July 21. The church and multipurpose structure was conceptualized to serve more than the current 150 families in Sherwood Park and the surrounding area. It is expected to open its doors in April of 2019.  
Parishioners look forward to attracting young families in Sherwood Park and the surrounding area in addition to a good cross-section of faithful from other demographics.
With this goal in mind, a children's Divine Liturgy is held in English on the first Sunday of the month. A Sunday school program is offered on the remaining Sundays of the month. The Ukrainian language is promoted on the last Sunday of the month with Ukrainian responses within the Divine Liturgy. 
"Kids in Church," ages 6 and up, are encouraged to participate in church life through activities that enable them to have fun while building relationships within the Ukrainian Catholic community and "giving back" to the Sherwood Park community. Activities include "board game nights, pizza parties, tobogganing, delivering gifts for Santa's Anonymous, making and distributing Mother's and Father's Day gifts, pool parties and making decorations for parish events."
St. Sophia parishioners have not forgotten the primary purpose of the Church: to live our Christian life helping others. Their outreach program, Happiness Is Helping Others (HIHO), reaches out to the community and parish members with charitable donations, transportation, elder care and a prayer chain.
Bishop David was first called on to guide this major project (ironically, at the time of the Great Jubilee Year 2000), but was then posted elsewhere. "I recall with great joy in my heart the seeds that were planted some 20 years ago," Bishop David says. "The church is founded on the desire of its parishioners to maintain the Byzantine traditions of the Ukrainian Catholic Church while drawing in a young community focused on growing its own faith in a highly secularized world."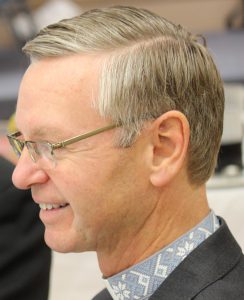 It all began when Bishop Lawrence Huculak, Edmonton Eparchy's leader at the time, was approached by a contingent of potential parishioners pointing out a need for a Ukrainian Catholic parish to be established in the Sherwood Park area. In 2001, Bishop David, a priest at the time, was just completing his term as rector of Holy Spirit Seminary in Ottawa. Bishop Lawrence wasted no time in assigning the young priest "to journey with the new community as its new pastor."
As often happens, the following year Bishop David's path turned. He was appointed Auxiliary Bishop of the Archeparchy of Winnipeg. This appointment was followed by his ordination as Bishop of the Ukrainian Eparchy of Edmonton in January of 2007.
Now, in 2018, he is back to leading the establishment of this new parish. "I rejoice in participating in the blessing and sod-turning ceremony, which officially kicks off construction of Saint Sophia's new, and permanent, home."
Asked what he finds most inspiring about this new parish, Bishop David notes it "is that it was a grass roots movement, stemming from a genuine desire on the part of a handful of people who wanted to build a parish and have a place to worship and share their faith with their children and grandchildren in their own community.
"It was not the bishop who said to himself, 'Wouldn't it be wonderful to have a new parish in Sherwood Park and area,' but rather the future parishioners themselves who out of love for God, faith, and family sowed the seeds and nurtured the idea of a new faith community."
St. Sophia has held Divine Liturgies in various locations in Sherwood Park. The parish community is currently hosted at Madonna School, 1500 Main Blvd., Sherwood Park, Alberta.
Why Sherwood Park? "Sherwood Park is a growing and dynamic community, serving well beyond its borders throughout the County of Strathcona," says Bishop David. "It is a catch basin for Saint Sophia Parish. Many of us work, study, and play in our communities; and many parishioners simply want to pray in their own community. The beautiful Byzantine architecture of the church and hall will be a beacon calling the faithful, existing and those who will join the parish.
In conclusion, "the parishioners know well that they have their work cut out for them. It takes a lot of energy and money to build the parish church. Many parishioners have already stepped up with the time, talent and treasure to make the construction a reality. Some are praying to win the lottery!  Others are honing up on their pyrohy-making (perogies in Polish) skills!
St. Sophia parishioners are actively fundraising through events like a buy-a-brick campaign, ongoing pyrohy-making and sales, an annual Malanka, golf tournament, New Year's festival, pyrohy supper, and a fall dinner, dance and silent auction.
For more information about St. Sophia, its patron saint and the history of the creation of this faith community, visit http://stsophiaparish.com/